How to build a Real Estate Business ecosystem?
Real estate business is lucrative when it comes to ROI , many realtors start this business keeping the ROI in mind, but they lack the ecosystem building.
People think the traditional approach still works, maybe working for some people now but that's not the future. Things are changing very rapidly, user behaviour is changing.
With the changing environment you need to build a perfect ecosystem for your real estate business, but what all you need in your ecosystem. So we'll be discussing the same in this article.
Building an ecosystem requires a strategy/ plan to draft on how you can devise your entire business process.
Building Website/ Social Media Profiles: When starting a real estate business, one must start designing their business website (not listing website) with neat and clean templates or designs. Also should start creating social media profiles (not on all platforms), identify the platforms where you might get your business for e.g. Facebook, Instagram and LinkedIn initially.
Lead Generation Mechanism: Build a system to generate leads for your projects, don't go for quantity, try and get the quality leads so that you can segment those leads and use it for lead nurturing and future pitch also.
Here are some factors to consider,
Are you targeting relocating professionals or first-time homebuyers?
Where does your target market live?
What kinds of jobs do they have?
What is their annual income range?
What are their interests?
How many people are in their family?
Read this article to get more knowledge on lead generation in real estate
https://realtomation.com/real-estate-lead-generation/
Managing Data: As you must be aware that data has become a new oil, the most precious thing in business nowadays. The more maintained or organized data you have, the more business you can expand. That's where CRM comes in where you maintained user data and activities.
Real Estate CRM: CRM is a customer relationship management tool where you maintain the leads for the activities, tasks, follow-ups, segmentation, campaigns etc. The CRM should be your one spot hub for your lead management. Here are some screenshots of how we have used Hubspot as a CRM for many realtors.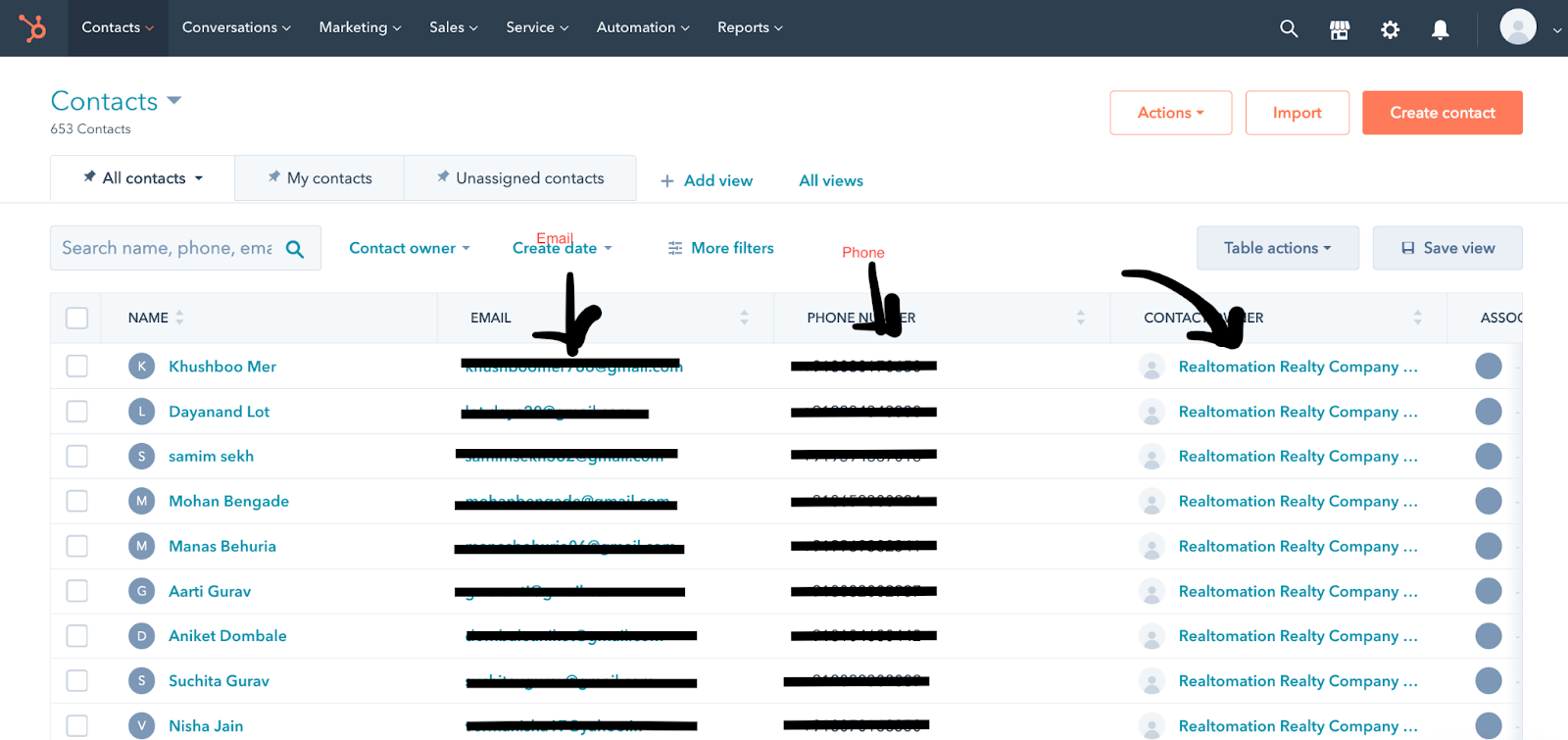 This is how the dashboard of CRM looks, you get the lead in real time and it gets assigned to the contact owner who will work on that lead.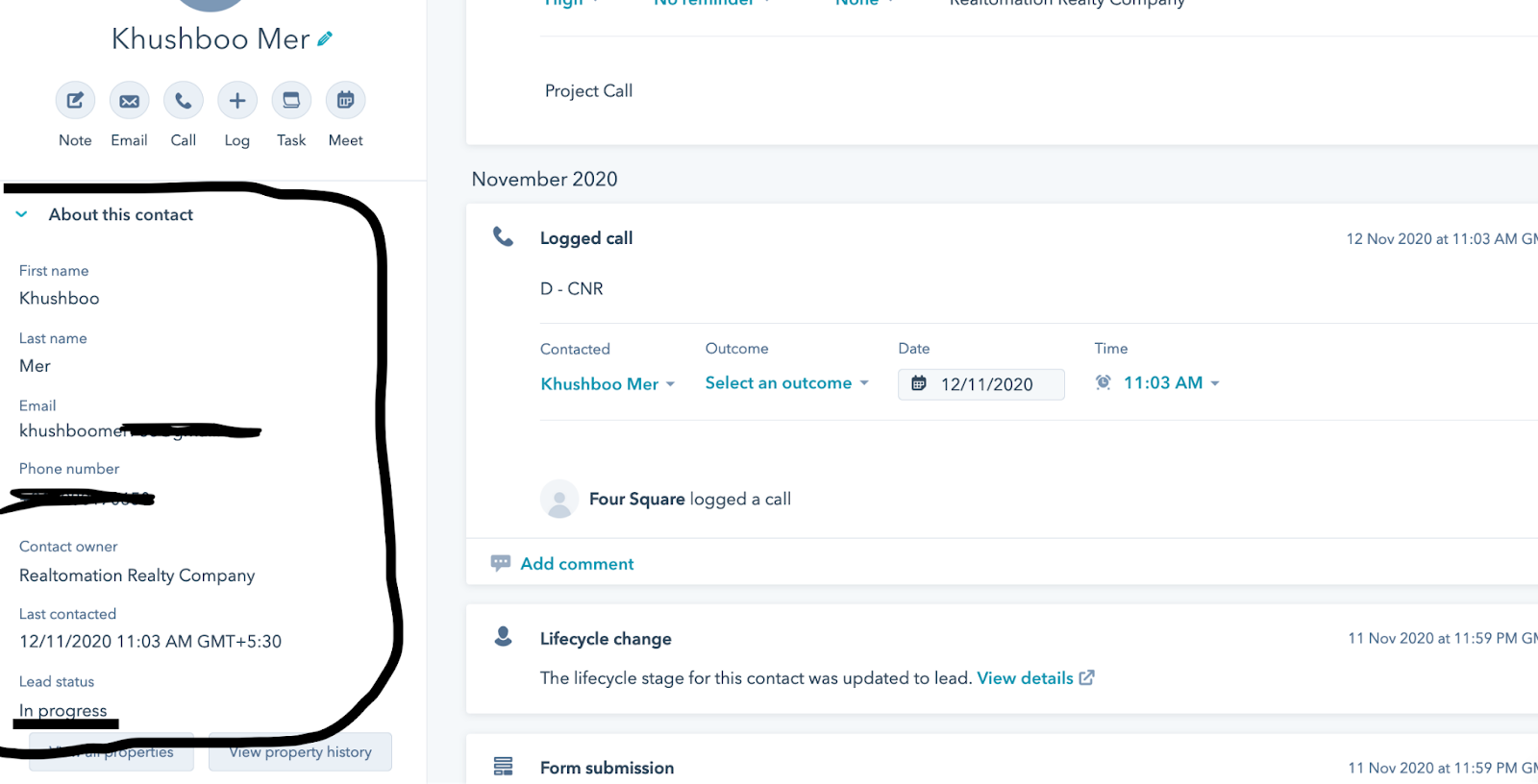 As you move ahead and click on any lead, you'll get lead details and activity area. This helps in tracking all the activity and updates of the lead and eventually helps in nurturing and closure.
Landing Page for the projects: Landing page is an important element when marketing for any real estate projects, it helps to cater more information about the projects to the leads and help them understand the project.
Here are some points needs to be consider while creating a landing page,
It should be mobile first
Page load speed should be very good
Minimum or just one pop-up if required
Should be focused on one CTA
To experience the above elements check out some landing page we designed for our clients,
http://landingpages.realtomation.com/metroskyline/
http://landingpages.realtomation.com/runwalmycity/
http://landingpages.realtomation.com/72west/
http://landingpages.realtomation.com/godrejwoods/
http://landingpages.realtomation.com/goldstarhomes/
http://landingpages.realtomation.com/shalimarmannat/
http://landingpages.realtomation.com/natura/
http://landingpages.realtomation.com/miravetdistrict/
http://landingpages.realtomation.com/eldeco-luxa/
http://landingpages.realtomation.com/nakulraj/
http://landingpages.realtomation.com/urbanpark/
Conclusion: So collating all the elements explained above, you can build your real estate business ecosystem which will help to grow your business in this modern era.
Want to know more about real estate ecosystem building. Check out this wonderful course